COVID-2019
(Coronavirus Disease 2019)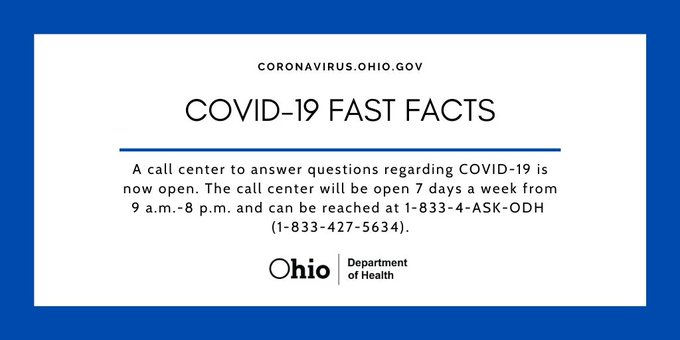 Defiance County Confirmed
Cases of COVID-19

7

Confirmed cases Hospitalized

2

Updated 4/5/2020 at 1:00 pm
State of Ohio COVID-19 Interactive Dashboard
DCGHD is working in collaboration the Ohio Department of Health (ODH) and Centers for Disease Control (CDC) and are actively monitoring the Coronavirus Disease 2019 (COVID-19) outbreak. Steps you can take to prevent the spread of flu and common cold will also help prevent COVID-19. This includes covering your cough, washing your hands, and implementing social distancing.
For accurate, up-to-date information on COVID-19 visit coronavirus.ohio.gov General information regarding Coronavirus/COVID-19 can be obtained by calling the ODH call center at 1-833-4-ASK-OHIO (1-833-427-5634). Find us on Facebook
for additional messaging and information regarding COVID-19
Explore the tabs below to find up to date resources and guidance on COVID-19

Press Releases and other News Releases
Public Health Orders
Coronavirus General Information

Screening for Travelers
CDC Infographic for Travelers: CDC and US Customs and Border Protection (CBP) are implementing enhanced health screenings to detect travelers with fever, cough, or difficulty breathing when entering the United States.
CDC Travel Card: If the traveler does not have symptoms, CDC staff will provide health information cards to take with them. The cards tell travelers what symptoms to look out for, and what to do if they develop symptoms within 14 days after leaving China. Here is an example of the card that is given.